Lite Run helps people regain their ability to stand and walk following an injury or disability, such as a stroke. The patented Lite Run system was designed to restore mobility and wellbeing quickly, safely, and cost-effectively.
In the midst of a prolific cardiac medical system development career, John Hauck first turned his attention to developing a system that would help him keep running as he struggled with knee pain. He connected with Doug Johnson, another recreational runner and inventor, and the two began to collaborate on a system for walking disability. After some false starts, they invented a new way to take body weight off using air pressure in a special pair of pants. Machine designer Mark Johnson joined the effort and they built a system with mechanical and pneumatic controls to run in the pants on a treadmill. "I was delighted when I found that I could run for an hour at up to half of my body weight!" Hauck recalls.
It was clear that this system would help more than recreational runners. The three Lite Run founders began collaborating with Sister Kenny Rehabilitation Institute and North Memorial Hospital to build a prototype walker version for gait therapy. The therapists liked it so much that they volunteered their time to help test it. "The prototype proved so compelling that we just had to step up our efforts and develop a product," Hauck says.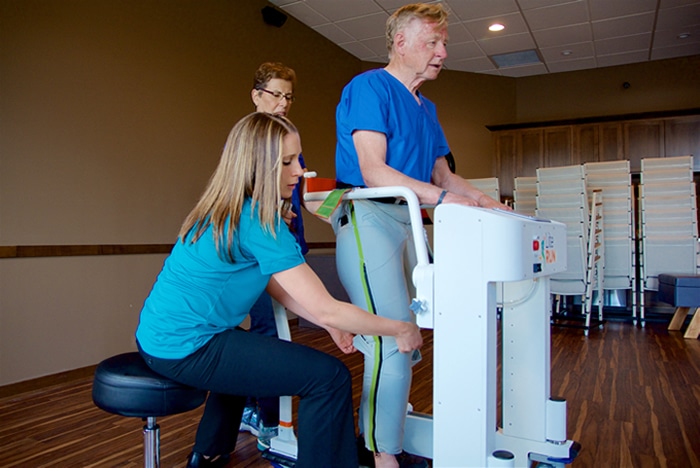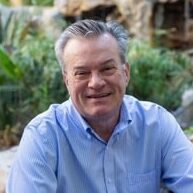 Gregg has had a diverse and successful career in the medical device industry, primarily focused on sales, marketing, and management roles. With expertise spanning multiple medical domains such as minimally invasive surgery, cardiology, interventional pulmonology, and sports medicine surgery procedures, Smith has served at leading organizations such as Veran Medical Technologies, CHF Solutions-Gambro Americas, and St. Jude Medical. He has consistently demonstrated exceptional strategic planning skills, exceeding sales targets and leading significant business unit growth initiatives.
Smith's leadership roles include Vice President of Sales at Veran Medical Technologies, National Accounts Director at Zimmer Biomet Cayenne Medical, and Chief Commercial Officer at Helia Care, Inc. He has driven sales growth in these roles, introduced innovative marketing strategies, and established strong relationships with key industry partners. His experience also includes successfully managing large teams and demonstrating a keen understanding of the P&L of the business.
As of 2023, Smith held multiple advisory positions at various organizations and was in an authorized distributor role at Natrox Wound Care. His proficiencies extend to numerous CRM tools, thanks to his extensive sales and management training. His vast experience and skill set make him a versatile asset in the ever-evolving medical device industry.
Vice President, Research and Development
Co-Founder
John began his career at Cardiac Pacemakers Inc. in Arden Hills, Minnesota before joining startup Endocardial Solutions (ESI) in 1993. He held the position of Applied Research Director at ESI until 2000 when he left to found EM Vascular Inc., a company that developed technology for electrically mediated angiogenesis, which was later acquired by ATS Medical Inc. After the acquisition, John returned to ESI where he played a pivotal role in the development of the NavX ™ heart mapping technology.
In 2004, St. Jude Medical acquired ESI and John directed a department responsible for the development of robotic catheter technology with a multi-million dollar annual budget. He recently left his position as Senior Engineering Fellow at St. Jude to fully devote his time to the Lite Run mission. John holds over 90 US patents and is a Senior Member of the Institute of Electrical & Electronics Engineers.
John holds a BA from Macalester College, a BSEE from South Dakota State University, and a MSEE from the University of Minnesota. With his vast experience in the medical device industry, John brings a wealth of knowledge and expertise to the Lite Run team.
Vice President, Manufacturing


Co-Founder
Mark Johnson started a career in the precision machining trade over 25 years ago. Since then he has designed and built custom machines and product prototypes for many different industries. Mr. Johnson owned and operated a precision machining company for 6 years before going to work for Endocardial Solutions (ESI) in 1999. At ESI he supported the manufacturing of the EnSite catheter and R&D projects.
Mr. Johnson was co-inventor of a sophisticated robotic catheter system, and after St. Jude Medical acquired ESI in 2004, he joined a group responsible for developing it into a product. Mr. Johnson has spent the last six years developing and building prototypes of Lite Run's unique gait training system. Mark holds 13 US patents.
The first 19 years of Mr. Wigness' carrier involved the conception, investigation and development of implantable devices for the management of therapies in areas such as diabetes, cancer and chronic pain at the University of Minnesota, Department of Surgery, Implantable Devices Laboratory. At that point he left the U of MN to start a company, with the university as a partner, for commercializing the devices that were developed as part of that previous activity. That company, Esox Technology Corporation, was subsequently purchased by Advanced Neuromodulation Systems, to add a continuous intra-spinal morphine infusion system to the ANS product line.
After working at ANS for three years as a Sr. Scientist, Mr. Wigness started Esox R&D, Inc. to provide quality system consultation to medical device companies, eventually leaving to take a Design Assurance position with St. Jude Medical's Atrial Fibrillation Division. During Mr. Wigness' tenure at SJM, he worked with John Hauck and Mark Johnson as the Design Assurance resource on a robotics project. When John and Mark formed Lite Run, Mr. Wigness joined that new company.
Vice President, Business Development
Michael brings an intimate and complex portfolio of experience and passion in caring for aging Americans, specializing in Veteran care. Michael and his mother both served in the United States Air Force; his family has a combined 67 years of committed service to the VA. Having been raised in a family of Veteran long-term care providers, Michael's acumen and passion skillfully address the unique needs required to serve the aging population, specifically Veterans within this demographic.
Michael has led nursing homes as a licensed administrator and understands the honor and careful responsibility required to provide quality care. Compelled to do more, Michael pioneered Prosperous Home Health in 2014, a home-health care provider that strives for excellence in physical and emotional care of residents across the Midwest. In 2021, Michael founded Prosperous Robotics, a subsidiary of Prosperous Home Health. Prosperous Robotics aims to bring assistive robotic walkers (ROSE) into the homes of millions of aging Americans, providing both physical and social assistance, while addressing the labor shortage in the health care industry.
Michael is honored to serve as VP of Business Development; Lite Run's dynamic and forward-thinking goals deeply align with Prosperous Home Health, utilizing innovation and technology to better serve the aging population. Achieving quality care and quality of life has been enmeshed in Michael's family history, his career, and his heart.

Dave Springer, President and Chief Executive Officer of Verve Medical, brings 30 years of experience in the healthcare and medical devices industries. Most recently, Springer held the position of Chief Operating Officer of Enterprise at Sharecare, a digital health company.
Before this, Springer held the position of President and Chief Executive Officer at medical device companies Cayenne Medical and CHF Solutions through their successful acquisitions by Zimmer Biomet and Gambro, respectively. Before this, Springer was Sr. Vice President for St. Jude Medical, where he successfully created and led all US strategic and operational plans. In 1997, he was a member of the founding management team of WebMD (formerly QDCS, Inc.), where he held the positions of Executive Vice President of Business Development and Senior Vice President of Sales.
Before WebMD, Springer served in various leadership positions in sales, corporate accounts, and marketing at Intermedics, Kimberly Clark Healthcare, and Procter & Gamble. Springer received his Bachelor of Science in Industrial Management from Purdue University in West Lafayette, IN. 
Jerry Hu has 30 years of professional experience both as a practicing physician and in medical system sales management. He started his career as a physician and practiced in cardiology in China and was a visiting fellow in University of Massachusetts Medical Center. Since entering the medical system business, he has been worked for several start-up medical system companies, such as Asian & International Business Director and Vice-President in Prucka Engineering, Endocardial Solutions, Stereotaxis, Ablation Frontiers, Atritech, Magnetecs, and currently he is at Veran Medical Technologies Inc.
Most of these companies have been acquired by major medical system companies, such as GE Medical, St. Jude Medical, Medtronic and Boston Scientific, due to cutting-edge novel technologies and promising business potential. While Mr. Hu is a medical technology visionary, he has deep experience in new product launch and market development with a track record in business development.
Mr. Hu graduated from medical school in China and completed the Executive Development Program in Columbia University Graduate School of Business in 2002.